Paw Prints a "Newsletter"
9/17/18
We are sure many have been wondering, what happened to the big sign welcoming and cuing you in to Creature Comforts Pet Retreat. When we got new gravel to redo the parking lot, unfortunately there was a small accident that resulted in the sign being knocked down! However it is being taken care of. We are updating it with our "new" logo and making it sleek and professional. If you are having difficulties finding us give us a call!
New Merchandise - Bison Treats
9/28/18
Did you know we carry a select inventory of slow-baked bones and trachea's for your dog to enjoy during or after their stay? We are sure you love spoiling your pooch as much as we love spoiling ours, so why not pick up something for them to chew on! We have beef marrow and shin bones but we just got in some bison products. For just $4.50 grab a knee cap, or a large shin bone for $9.99.
Water Quality Results - In
10/5/18
Here at Creature Comforts we strive for the comfort and safety of your critters and that includes the health of all the animals we keep here. During our summer months, then periodically the remaining time, we have our drinking water tested through Trusted Water to check for harmful bacteria that could make its way into our water source during algae blooms or other outbreaks of water-borne diseases in the area. We just had our end of summer test results come in and they are exceptional - with no signs of harmful bacterium. Putting our water quality above even some medical facilities and inner city pipes in the area, how exciting! In the past we have tested with the same results, also testing negative for lead and other harmful chemicals. On top of drinking water, we have parts of our facility swabbed biannually for bacteria growth. We swab before and after our cleaning processes for food and water bowls, along with indoor and outdoor kennel spaces. We have been perfecting our cleaning process to ensure the health and prevention of sickness with the help of this bacterial swabbing. Did you know earlier this year we changed our two-step kennel cleaning and disinfecting process to a three-step grime fighting, germ-destroying cleaning protocol? We had unwanted bacteria sticking around our floors, so on top of changing our steps to cleaning, we also repainted the facility to help fill in any "pores" in walls and floors. At Creature Comforts we want to give you the peace of mind that your dogs and cats have the most excellent care possible, and why not start with drinking water and cleanliness?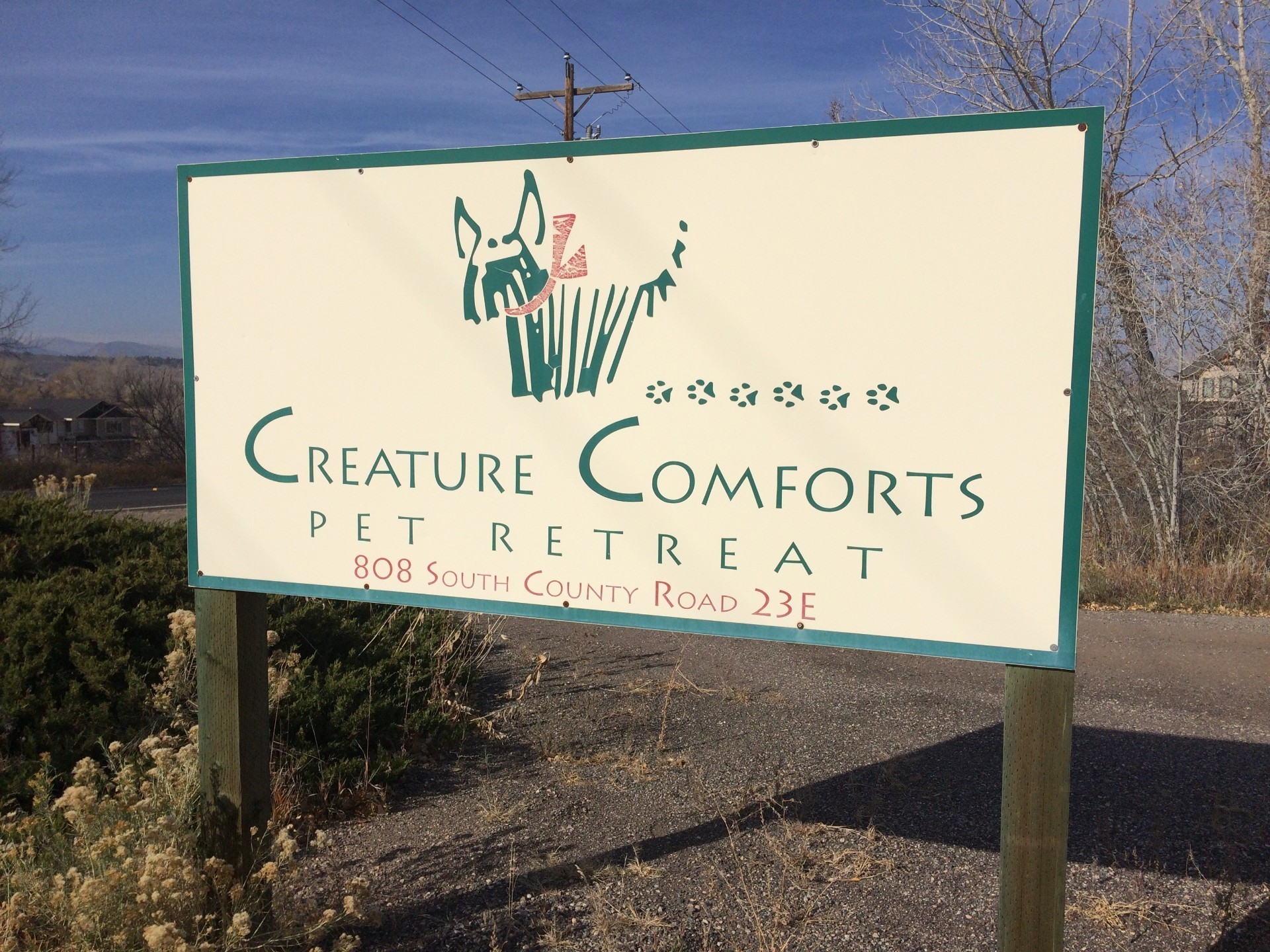 Rest in peace Original Sign!
We are also discussing expansion among other upgrades. If all else fails, at least a third play yard for more romping and puppy play!